About St. Stephen's
St. Stephen the First Martyr Parish is the fruit of 28 years of effort by the Latin Mass Community of Sacramento. In 2007, the Priestly Fraternity of St. Peter celebrated its 17th year of service to this community, which has the approval and blessing of Bishop Jaime Soto of Sacramento. All Masses and Sacraments are celebrated in the Traditional Latin (Tridentine) Rite in accordance with the books of 1962, as encouraged in the 1988 Motu Proprio Ecclesia Dei Adflicta of Pope John Paul II. Bishop Emeritus William Weigand has stated: "The traditional Latin Mass community of St. Stephen the First Martyr is a blessing for the Diocese of Sacramento."
Liturgical Life
We offer a full parochial observance of the Sacred Liturgy, including three Masses per day, Vespers and Compline every week, as well as many Catholic devotions, making St. Stephen's the premier traditional parish in the State of California. Our community is "a family of families," centered on the Blessed Eucharist.
Liturgical music is a priority. Gregorian chant, polyphony, and hymnody are led by our parishoner-comprised Schola Cantorum, adult choir, and choristers. We are particularly proud to maintain the ancient Catholic chorister tradition. Find out more about the St. Stephen's Choir and Choristers.
Parish Life
Our priests currently teach various classes for the community. We hold many educational homeschooling events, such as our Arts and Science Project Fair, and Speech Contest. St. Stephen's also offers a healthy array of group and social activities, including:
Altar Guild(boys)
Little Flowers (girls)
Rosa Mystica (girls)
Sodality of the Blessed Virgin Mary (girls)
We also host special events such as Summer Camp for Boys, barbeques, square dances, and the annual Christmas Pageant.
Our Priests
The needs of more than 1000 active parishioners are currently being met by three full-time priests in residence who belong to the Priestly Fraternity of St. Peter (F.S.S.P.), an international society of Pontifical Rite with the charism to pursue holiness by means of the Traditional Liturgy and all things which flow from this: doctrine, discipline, and discipleship.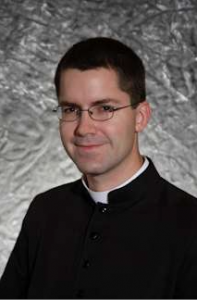 Fr. Joshua Curtis, FSSP, Pastor
Fr. Graham Latimer, FSSP Parochial Vicar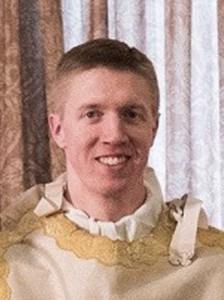 Fr. David McWhirter, FSSP, Parochial Vicar
Our Location
St. Stephen's Church and Rectory is located at 5461 44th Street in Sacramento, one block north of Fruitridge Road, about one-half mile east of Highway 99.
A complete schedule of Mass times and other devotions is listed on our main page.
Contact St. Stephen's
You may contact the priests at the numbers listed below, or by sending an e-mail to stephenproto@yahoo.com.