ADULT CATECHISM 2022 – 2023
We are beginning to register new adult converts for the 2022 to 2023 catechism lessons. They will begin on August 11 of this year, and will continue to meet on second and fourth Thursdays until the Easter Vigil of 2023. If you know someone that might be interested, please pick up a registration form and schedule from the parish bookstore or office, or have the person in question contact Fr. Curtis by e-mail: frcurtis@fssp.com.
PIG ROAST
Mark your calendars for the St. Stephen's Pig Roast: Sat, Aug 6. If you wish to volunteer for this long awaited celebration, please contact Gloria Santana at (916) 832-2811.
(We're hosting the pig roast on a Saturday because the Sunday schedule has so many Masses now. The schedule will be forthcoming.)
NEW (OLD?) MISSAL STAND
Many thanks to Tom Scarry, who touched up and repaired an old Missal stand that we have had in storage for many years. The stand was slightly too large and would not fit on our altar, so Tom re-made and re-carved the back legs. You cannot even tell that stand was altered, a masterpiece of two generations of craftsmanship!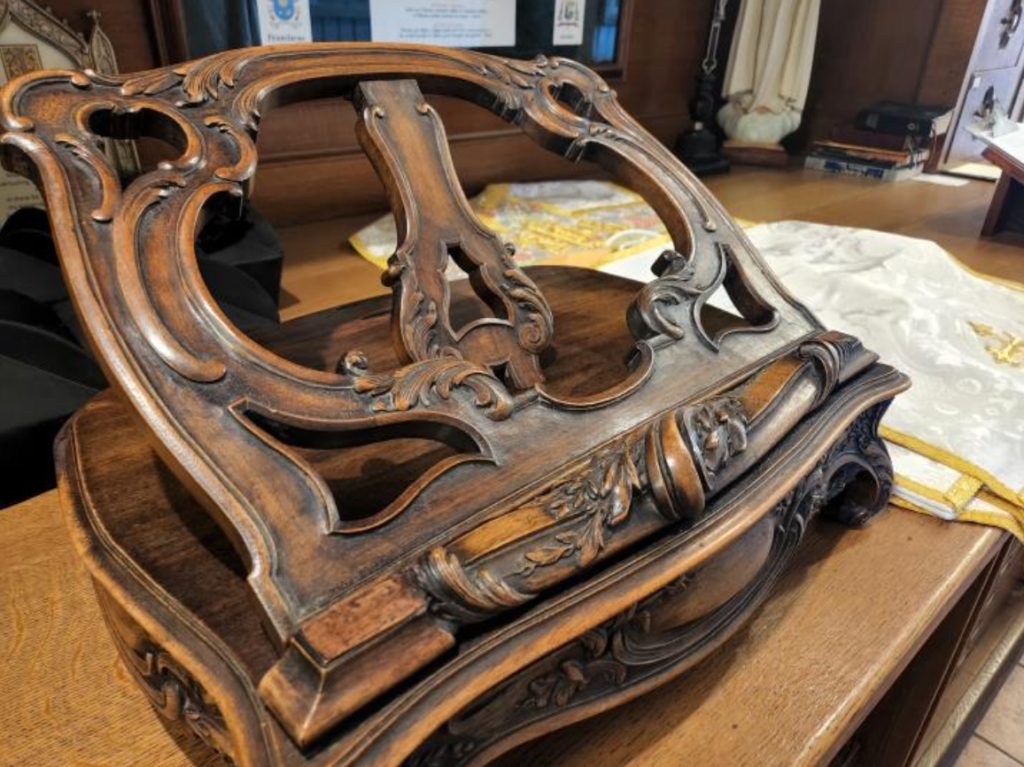 CATHOLIC TRADE SCHOOL
A parishioner thought other families might be interested in information regarding a Catholic trade school for young men. I am not familiar with the school itself so this does not constitute an endorsement.
The school in question has information on their website: https://www.harmelacademy.org/
They also offer a "gap year" program to teach life skills to young men, information can be found at: